Wall Street Journal
ARTS & ENTERTAINMENT
An Unknown's Masterworks
By WILLARD SPIEGELMAN
El Paso, Texas
What happens if a tree falls in a forest and no one hears it? What happens if a man spends 30 years building an architectural- spiritual monument in the west Texas desert, which few people have seen and probably very few will ever see?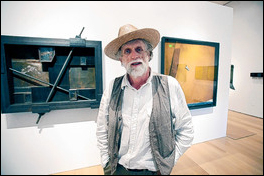 "One scholar-critic has called the sculptor 'America's greatest living unknown artist." – Associated Press
James Magee, whom the art scholar-critic Richard Brettell has called "America's greatest living unknown artist" (a claim logically impossible to verify), has lived and worked in El Paso, and on his country property more than an hour's drive to the east, since 1981. Like his work, his life has been, to say the least, unconventional.
Raised in small-town Michigan, equipped with a University of Pennsylvania law degree, Mr. Magee (born in 1946) spent a postlaw school year working for Caroline Lee, an American sculptor in Paris, and the next decade in New York. To support the making of art, he taught, drove a cab, served as consultant to the New York City Planning Office on Staten Island. He designed the sets for an Eastman School opera production. Then he landed in west Texas to work on oil rigs.
Rather, they landed here. Mr. Magee has several artistic alter egos, the most prominent of whom is a painter named Annabel Livermore. At the Magee house in downtown El Paso, you can see Livermore's paintings and watercolors, the former heavy in their impasto and symbolism, the latter light and decorative. Think of William Blake, an earlier eccentric and man of many arts. Livermore's pictures have been more widely exhibited and sold than Mr. Magee's sculptures. Laura Bush is a fan.
But the two-dimensional work of the artist's "female" half is less impressive than the three-dimensional sculptural and architectural pieces of Mr. Magee himself. Until recently, these works have been largely unknown in the art world—for several reasons.
First, Mr. Magee works slowly. His wall pieces number fewer than 100. Second, they are weighty. Anyone who buys one must essentially fortify a wall or construct an industrial space to put it on. Third, he says that gallery dealers who have visited his studio—a combination of junkyard, laboratory and scrap-metal shop—in downtown El Paso have left saying they didn't think they could find buyers for his work.
The Hill, Mr. Magee's masterwork (some might call it an obsession or a folly), has been under construction for three decades or more: The first piece he made that eventually went into The Hill was done in the early 1970s on Staten Island. He says he'll need another 15 years to complete the project. But he is in ill health. Will he finish? Does it matter if he doesn't? Even incomplete, it is impressive, indeed extraordinary.
But because The Hill is a work in progress, it is not open to the public. By comparison, getting to see such off-the-beaten-track treasures as Donald Judd's Chinati in Marfa, Texas, or Robert Smithson's Spiral Jetty in Utah, or Walter De Maria's Lightning Fields in New Mexico is easy. And Mr. Magee says he doesn't care what happens to the work when he dies.
What is The Hill? Many things: a combination of architecture and sculpture, of art and landscape. It consists of a quartet of 14-foot-high, flat-roofed buildings (one of which still lacks a finished interior), in a cruciform shape, sitting atop two intersecting elevated stone causeways. All is stone and metal. Light seeps through fiberglass panels from above. There is no electricity. Mr. Magee has done all the work, by hand, with the help of hired assistants who come and go. For the sake of the lucky visitor, they open and close the large metallic doors into the three edifices. Nondoctrinal religion, a pervading spirituality, defines the place and the experience of being there. Mr. Magee is the creator, the servant, the priest and—for the most part—the congregation.
The south, north and east buildings house a variety of sculpted shapes—vertical triptychs, altars, panels—all composed of industrial materials and filled with glass, cloth, metal, something that suggests an animal's flayed body, and various other detritus. The most spectacular installation is the horizontal floor sculpture in the east building. This vast piece is capped by a glass-and-metal cover that took four men 15 minutes to raise via a set of clanking pulleys. It looks like a lunar landscape designed by Corbusier and made of iron and steel objects, broken glass, ball bearings, beads, metal shavings, all arranged into shapes that remind us of things we know (a chair? a body? a road map? a destroyed city?) but have never seen before. It is a map of the imagination.
When the chapel doors are open, you look through them and out to framed desert vistas, the same scenes you can see as an encompassing panorama once you step away from the buildings. The untended cacti, agave, yucca and delicate desert flowers seem as deliberate as anything at Versailles.
For anyone who cannot get the master to grant a visa to The Hill—that is, for virtually everyone—there are two other chances to sample his art. The Nasher Sculpture Center in Dallas has just mounted the first major museum exhibition of Mr. Magee's work in 18 years. It coincides with a splendid book, "James Magee: The Hill," with essays about (and pictures of) The Hill by Mr. Brettell and Jed Morse, the Nasher's chief curator, and also about the relief sculptures that hang on the walls at the museum.
These Nasher pieces alone make a trip to Texas worthwhile. Think of art that marries Joseph Cornell's delicately magical worlds-in-a-box with John Chamberlain's boldly colorful crushed automobile sculptures. Industrial materials and elements of chance have been part of modern art for more than a century, but Magee's wall pieces manage to combine and to transcend their influences.
They are powerful and delicate in equal measure. Framed by glass and steel, often evocatively titled and linked to poems by their maker (again Blake comes to mind), and often very large, they are gorgeous. If Annabel Livermore represents the anima of a double artist, and if the massive stone buildings at The Hill are the animus of Magee's Jungian persona, then these wall reliefs are the perfect blending of masculine and feminine, yin and yang, the industrial and the natural, the sublime and the beautiful, the found and the made.
Mr. Spiegelman, the Hughes professor of English at Southern Methodist University, writes about the arts for the WSJ.