Artist James Magee and 'The Hill'
Jerome Weeks – September 3, 2010

Texas artist James Magee has been something of a recluse in El Paso — at least when it comes to access to his art. Fewer than a hundred people have probably seen The Hill, his magnum opus — because only Magee himself has ushered visitors through this complex of buildings and sculptures on some 2,000 acres out in the West Texas desert. The Hill is a career summation for the sculptor, one that bears comparison with Donald Judd's famous Marfa or Walter de Maria's The Lightning Field in New Mexico. It's a landmark of out-west minimalism and landscape art.
But it's far more than that. And with the new exhibition at the Nasher Sculpture Center, Revelation: The Art of James Magee — the first museum show of his work in 18 years — Magee is about to get some of the national attention that he has studiously avoided for years. The Friday morning we interviewed him, he was already set to talk with The Dallas Morning News, the Houston Chronicle, the Wall Street Journal and the Associated Press. In one day, he'd be facing more media outlets than he'd spoken with in most of his career. Expect quite a few stories about a Texas hermit-artist: Magee may enter the national art scene like a prophet out of the desert — lending the exhibition's title, Revelation, a particular layer of meaning.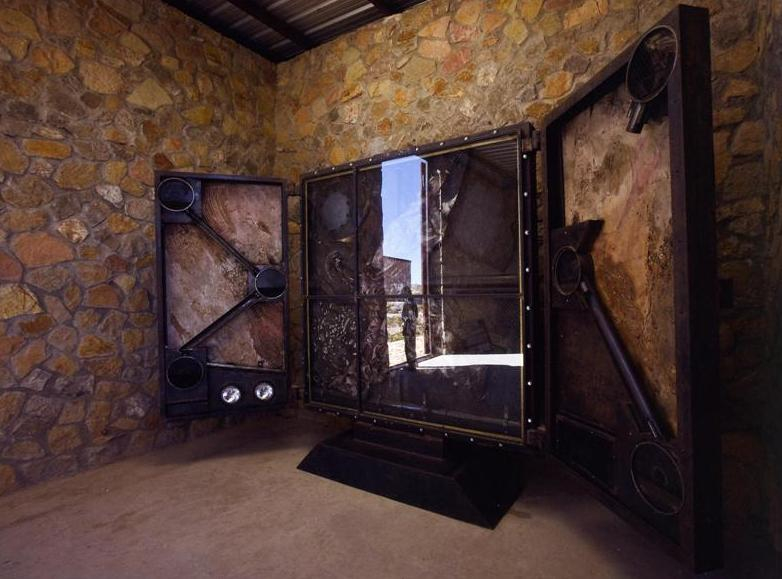 The North Building, Interior
The attention will be deserved. I'm not in the habit of making such declarations, but when it's finished — Magee is still working on the last of the four buildings — The Hill will rank as one of the most significant works of contemporary art. It's an astonishing creation. It's as if — off by himself, away from the major art centers of the world for years — Magee didn't just pursue his singular vision. It was so big, his talents so various — from architecture to poetry — he had to build his own art museum. (The poetry is in his titles — if you wish to hear him recite one, he does so in the Think TV interview, recalling his childhood in Michigan. But there are also audio clips on the Revelation website and you can listen to him on headphones at the Nasher).
The results at The Hill (as seen in photos) are clean and modern yet also ancient and craggy, filled with violence and Christian faith.
The Hill is like a giant Joseph Cornell box crossed with an altarpiece Crucifixion by Mathias Grunewald — two comparisons made by authors Richard Brettell and Jed Morse in their exhibition catalog. Magee's sculptures have the oil-and-steel engineering of the 19th century — as much as an art museum, The Hill can seem an industrial archive crossed with Stonehenge. Magee's art has the transformative, magpie spirit of the modern collage artist, taking discarded trash and finding delight and beauty in it. At the same time, this sensuality of rusted steel and ball bearing feels yoked to an almost Old Testament fierceness. His sculptures at the Nasher and The Hill are full of broken glass, crushed stone, scraped paint, bits of bone, little reservoirs of oil — but all of it carefully wrought and hemmed and fixed in place.
It's a fierceness that, in person, Magee seems to lack utterly. A frail, wintry figure who looks sun-bleached of all color, he speaks with a wry, whispery voice.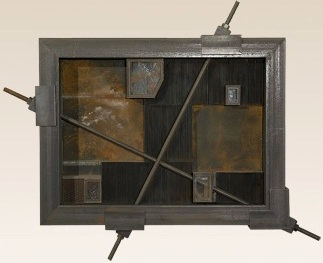 Magee's earlier artworks on view at the Nasher — like The Mineshaft (left), named for the infamous gay S&M club in New York — often combine steel and glass in somewhat more conventional constructions (hanging on a wall, in a gallery). They clearly point to The Hill, which is a culmination, a compilation. As Magee says in our TV interview, every thing he's done feeds on one another, with the Nasher's works being "bits and fragments of thought, all of which, in some way, probably end up at The Hill in some form."
But The Hill is different — and not just in scale or ambition or enclosure. In effect, many of these earlier collages are windows of various kinds, often massively steel-framed and bolted, as if to prevent the under-pressure contents from exploding. They expose but they also contain (if only barely – the glass is occasionally cracked).
If these are windows, at The Hill, Magee is obsessed with doors, with piercing and unveiling – not just with his buildings' imposing, 17-foot-tall, hand-made, rust-steel doors, which open with a screech and a clang. The doors split open these huge stone boxes, exposing them (and the visitors) to the vast Texas landscape and sky, the blazing sunlight. Doors figure prominently in the sculptures as well. They're triptychs and hinged tablets, they unfold, they impart, they reveal (hence, another meaning to the exhibition's title). The triptychs also open up on works that suggest scourgings — and a crucifixion. The last of the constructions will have a massive floor that opens up like a mausoleum or vault, evoking Christ's tomb after the Resurrection.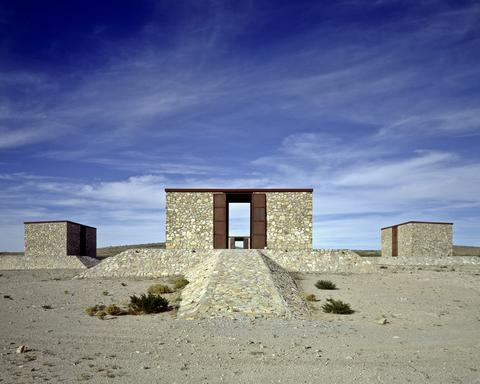 Magee is fortunate to have University of Texas at Dallas art professor Richard Brettell and Nasher curator Jed Morse as his first major critics-biographers (along with the late Tom Jenkins, who took the stunning photos for the book). James Magee: The Hill will be the single most important reference on Magee's life and art for some years to come — until, that is, someone manages to co-relate all of Magee's works as Magee with his others works done as his alter egos, Horace and the painter Annabell Livermore. While Magee's Hill functions as a series of openings and revelations, his life and career have often involved isolation, things hidden, different identities tucked away — somewhat akin to Marcel Duchamp's separate, transvestite career as Rrose Selavy. But for now, Bretell is clearly the leading expert and source in this brand-new field: He curated a smaller exhibition of Magee's work 15 years ago at the MAC and he heads up the Cornudas Mountain Foundation, which is dedicated to running and preserving The Hill.
Magee's work can be overwhelming — and he's not even finished yet with The Hill (he estimates another 18 years to complete the fourth building). To convey just one aspect of Magee's overall achievement: The Hill is an immaculate construction, a majestic piece of geometric art, precise and calibrated, laid out in classic, cruciform fashion. Yet it packs an emotional and spiritual force that minimalism or abstraction rarely attains.
This is Calvary welded and polished and bolted, this is Marfa with rust and blood.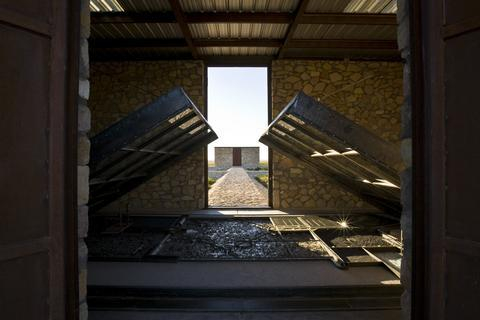 The East Building, interior